The team at Deckade Advanced Flooring Systems is looking forward to the upcoming 2014 FARE Walk for Food Allergies in Dallas, Texas on November 15th, 2014. Food Allergy Research & Education (FARE) is the world's leading organization dedicated to making the world safe for individuals with food allergies. As a family owned and operated business, Deckade could not be more honored to support our family member, Lauren, who is Youth Ambassador for FARE this year!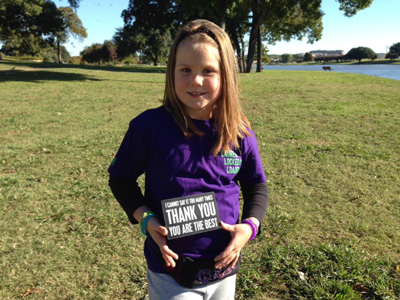 Lauren, who is currently nine years old, was born with life threatening food allergies. She is anaphylactic to eggs, milk, peanuts and tree nuts.
Anaphylaxis is a life-threatening type of allergic reaction, and can occur within seconds of Lauren coming into contact with her allergens. Lauren's body goes into shock and she immediately gets hives, nausea/vomiting, her eyes water, nose runs and her airway tightens and closes.
Lauren avoids her allergens like the plague. Her family must make sure when cooking at home all cooking utensils, pots, pans, cutting boards, etc., have been cleaned with soap and water before using any of her allergens. Hand washing and label reading is constant. When Lauren and her family eat out, Lauren really hopes the wait staff convey to the food manager, who talks to the chef, who then passes the order to the line cook, that she is anaphylactic to eggs, milk, peanuts and tree nuts and her burger is not cooked on part of the cook top a cheeseburger was just grilled on. When her family goes to baseball and football games, they must constantly scan the ground for nut shells. They pray the airline makes a small consideration by asking customers not to consume nuts on Lauren's flight. Lauren avoids her allergens at all cost because her life depends on it. But if you really think about it, it's a lot of work and worry for a nine (9) year old!
Lauren is the Youth Ambassador for FARE this year. She really wants to find a cure for food allergies. Lauren is doing her part to explain what food allergies really are, show what it is like to live with food allergies and raise money for a cure!
Deckade Flooring staff is supporting Lauren, along with the other 15 million Americans with food allergies, by making donations to FARE.
If anyone is interested in contributing their own donation to FARE please visit Lauren's FARE donation page.
You can also visit the Food Allergy Research & Education website to find out more information on this organization and food allergies.
Please help Lauren say FAREwell to Food Allergies!