Matt Revak – CEO/ Owner
As soon as you meet Matt Revak, you sense a particular charm that exudes trust in his word and commitment to his business. Be it his enduring experience as a highly successful general contractor, business operator, or sheer appreciation for the life that surrounds his personal and professional life, Matt is authentic in every sense of the word.
In his own distinctive way, Matt presents a calm and collected approach to the flooring business that is fueled by an unyielding determination to succeed on his clients' best behalf.
We want to be able to take care of our clients' needs in an expeditious manner that is going to far exceed any of their expectations."
For over 20 years, Matt has been involved in the business world in a variety of capacities; yet all of these are focused on providing quality products with unmatched service levels. He has a keen ability to balance his commitment to his professional life with his moments at home. Matt always looks forward to spending time with his grandchildren, family, and kids, enjoying all that Northern Nevada has to offer.
Cathy Revak – President/ Owner
Cathy Revak's extensive background in finance and 'people management' has attributed to Deckade's success for many years. She has a keen ability to blend her experience in accounting, education and insurance to keep the operation running efficiently and effectively 24/7.
I work with our entire team to ensure every decision and direction we take is the right one for our customers and our employees. They are equally important to us and the future of our company."
Cathy and her husband, Matt, got involved in Deckade after years in the home building business and education. Her personal and passionate approach comes naturally to Cathy who spent five quality years as a special education and reading aid with the Carson City School District.
Today, Cathy handles all of the AP and AR transactions as well as insurance and licensing. Her outside interests keep her fit to handle all of her business responsibilities. She loves to work out at the gym and also enjoys biking, cooking, gardening, and curling up with a good book. Ask anyone who knows Cathy about her true passion and they will be the first to tell you that her family is her pride and joy.
Erin Capurro – General Manager
With the title of "General Manager", Erin Capurro has earned her way to help lead Deckade to its success today. Erin started her responsibilities focused on sales and marketing and in this capacity she has and continues to handle the operation's marketing programs that include sales presentations and overall branding.
In-between the creative responsibilities, Erin also oversees the more technical tasks of reading and analyzing blueprints, cost estimating, and proposal development. Wearing many hats, Erin also manages the company's inventory, freight, and shipping logistics.
I thoroughly enjoy multi-tasking my way through every day; in fact, I look forward to it as I know each step is equally important to our customers' demands and expectations and overall operation."
There's no doubt this position is ideal for Erin who has always had a passion to put more on her plate than most. Just after she graduated from college, Erin was off to Europe to learn everything she could about Deckade and its representation of the Silikal products. She's always on the go … staying fit, cooking up healthy meals, and making memories indoors and out with her family by her side.
Sergio Venegas – Lead Sales Associate
Sergio has worked his way up at Deckade Flooring, pushing himself to learn everything about the business, and his broad array of accomplishments continues to grow. Sergio started out working on the installation crew, learning to hand lay quality floors, while also gaining insight of the multiple flooring products offered today. His extensive knowledge of the flooring industry has helped him succeed in his main focus, marketing and sales.
I find satisfaction from my job when I'm able to meet a customer and know that I'm helping them get a product that I believe in. By installing Silikal floors for years, I know quality work when I see it and I want to give my customer the best experience possible, from our initial meeting to our last."
Sergio's top notch customer service skills, along with his knowledge of Silikal products, continue to make him a strong asset to the Deckade team. As a car enthusiast, Sergio enjoys working on all types of vehicles, including his Chevy Caprice Classic, whenever he has down time.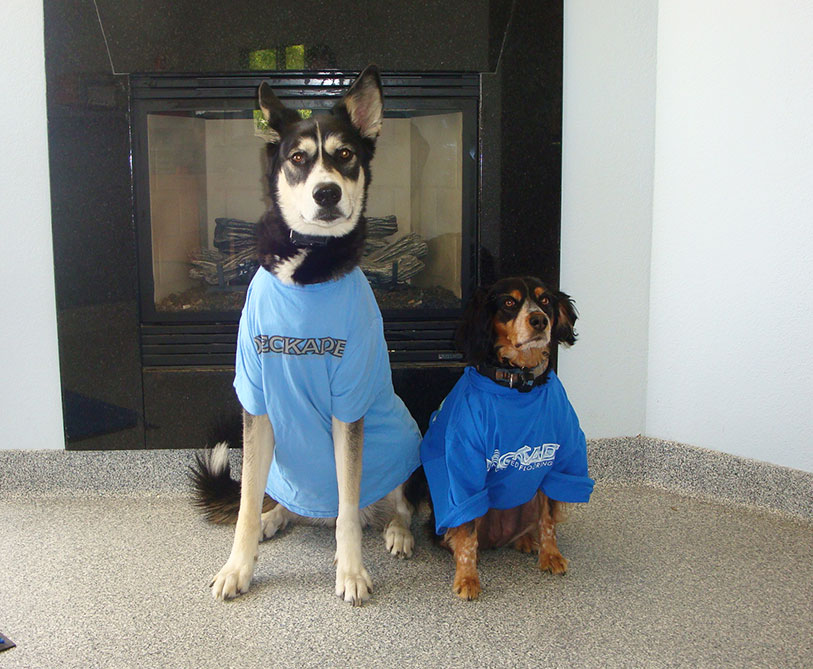 DECKADE. Flooring for the life of your business.