SILIKAL

 QUARTZ FLOORING

 

SYSTEM

 INSTALLATION
Silikal quartz flooring system installation is ideally suited for heavy commercial applications and areas that require a non-slip texture. The quartz and acrylic resin mixture provides for varying degrees of surface roughness and a highly durable finish.
Installations in commercial kitchens and food production facilities deliver hygiene critical seamlessness and pore-free quality. As an impermeable system, Silikal quartz flooring is long-lasting even under the wettest conditions. The inherent strength of the acrylic resin will support large equipment, vehicles, and traffic.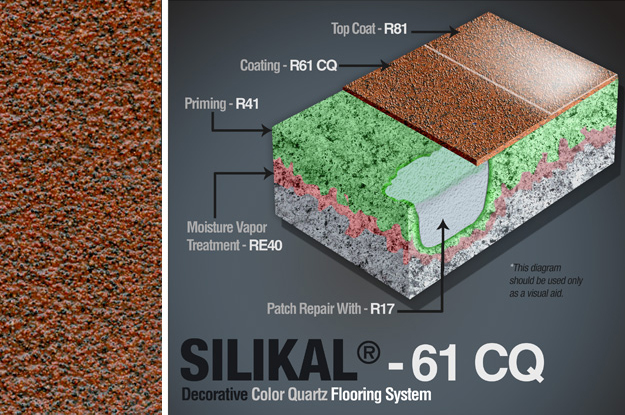 The following information lists the components and highlights of the SILIKAL® 62 CQ Quartz flooring system.
Patch Repair With R17
SILIKAL® R 17 mortar is a solvent-free 2-component methacrylic resin mortar with a high compressive and tensile strength. R17 cures within an hour which makes it a critical repair option for companies who work under tight deadlines and requirements to streamline down time.
Moisture Vapor Treatment RE40
SILIKAL® RE40 is a pore filling, super low viscosity and pressure-water-resistant concrete primer to prevent rising moisture. In environments where water vapor is a challenge, this barrier product provides an additional layer of protection from moisture.
Primer R41
SILIKAL® R 41 primer is used to strengthen and impregnate porous substrates. This product is an integral component of the Silikal quartz flooring system installation as it allows our resinous base layer to penetrate the substrate; this provides a layer of adhesion that goes below the surface of your floor.
Membrane RV368
SILIKAL® RV 368 resin is a solvent-free, 2-component methacrylic resin of high impact resistance and low-temperature flexibility. Its highly-molecular structure makes it outstandingly suitable as a coating layer that may be subject to extreme stresses, thermal shock, movement, and vibration. The elasticity of RV368 makes this product particularly useful to fill cracks, coat moveable surfaces, and provide pliability in extreme cold applications.
Base Coat R62 SL
SILIKAL® R 62 SL resin is a medium-viscosity methacrylic resin that is outstandingly suitable for most applications. Visually appealing surfaces and systems can be developed when we use R62 in conjunction with a variety of fillers, pigments or decorative flake.
Top Coat R71 RE
SILIKAL® R 71 resin is a reactive, solvent-free, low-viscosity, chemically resistant, non-yellowing 2-component methacrylic resin that offers superior durability. This pairing of the durable Silikal methacrylic with the dense quartz ensures that your Silikal quartz flooring is strong enough to bear any weight.
We provide Silikal flooring system installation in Nevada, Arizona, Idaho, Oregon, and northern California.
Silikal. Expect more from your floor.